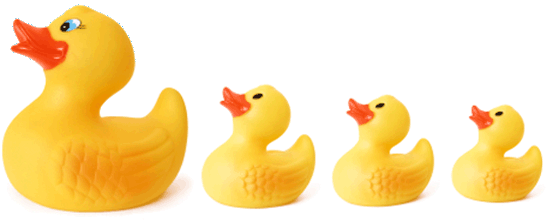 Finally a Book for Parents. By a Parent.
Let's face it, you cannot do without them and you seldom know what to do with them. Parenting must easily qualify as the world's most fulfilling but terrifying job. When you first hold your bundle of joy , you instinctively know that you have committed yourself to a lifetime of helplessness.Soon enough you find it is indeed so. Every little scratch cuts you to the core, every bout of fever gives you the chills, every sulk makes you defensive; it is almost as if when your children are born your life ceases to be your own.
Click on the image to view fullscreen
But the trauma that parents face when their children fall sick is usually because they do not have access to a trusted, information source that can tell them if it is alright or it is not. When joint families and community living were the norm, young parents had access to a repository of experience and information in the form of older family members. Today every little question means a call to the pediatrician or a laborious sifting through mines of Internet data; neither options are ideal. A pediatrician is not obligated to be available 24*7 and the Internet is not the same as a doctor.
This helplessness has spawned a million dollar industry. Bookstores have books on childcare by the dozen, written by very eminent professionals. These books sit on shelves as lifelines for floundering parents; the most complex of issues made simple to the point of being idiot proof. The number of books keep growing but so do the worried parents. Parents don't need lessons in medicines, they need reassurance from a medical person. And if the reassurance is given from one parent to the other so much the better. This is exactly what the book does: addresses your concern, one parent to another. The fact that the parent holding your hand is highly esteemed pediatrician of course more than helps.
Download the book (3 MB)
Contact the author
Follow the blog
About the Doctor
Dr Raj Rani Mitra has several distinguished degrees to her name. But the suffix, which she is most happy adding to her name, is - parent. The proud mother of a daughter, now an accomplished young woman, Dr Mitra understands only too well the trials and tribulations of parenting. In her own words: When I see some parents who are constantly worried because of their children falling ill, I want to help them. Therefore, my main aim in writing this book is to help these parents stop worrying so much and enjoy looking after their children. More about the author
Dr Raj Rani Mitra has been a pediatrician for over forty years. She is presently a consultant at the Al Abeer Medical Centre at Jeddah Azizeyyah in the Kingdom of Saudi Arabia. She began her career in UK where she served as a Senior House Officer Paediatrics, Medicine and Rheumatology for 3 years. She was also the Registrar in Paediatrics at Southern General Hospital, Glasgow UK and Bradford General Hospital, Bradford UK. She then moved to India and went on to be associated with prestigious medical organisations like AIIMS, Christian Medical College, Peerless Hospital and B.K.Roy Research Hospital. During her career, Dr Mitra has authored several acclaimed papers and is also the member of the following boards: Royal College of Paediatric and Child Health Indian Academy of Paediatrics, National Neonatology Forum of India and Indian Academy of Paediatrics West Bengal Branch.
X